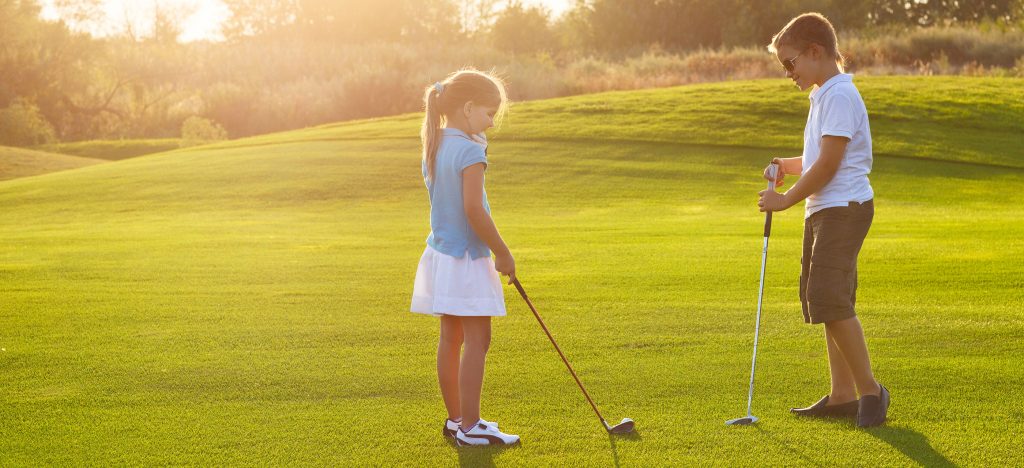 Golfing isn't just for the grown-ups. Sonoma County is a great place for young golfers to get started in the world of golf.
Signing your child up for junior golf lessons is a great idea—and not just because you love golf so much! Golfing keeps kids active outdoors, helps them develop friendships and interpersonal skills, teaches them about integrity and playing fair, and so much more.
If you've got kids who have shown interest in golf, one of Sonoma County's many youth golf programs is sure to have something to offer. Throughout the county, there are a large number of courses and organizations that offer junior golf lessons for young children.
Depending on your child's age and skill level, there are multiple avenues to consider for instruction. Most programs sort children by age first and then skill level, which means your child will be comfortable with the other kids in their group. From school programs to golf camps to group lessons, there's something for everyone.
Here's a quick rundown on some of the youth golf programs you can find across Sonoma County.
---
Youth on Course is a non-profit organization run by the Northern California Golf Association with a variety of programs designed for at-risk youth.
The programs include subsidized rounds, Caddie Academy, paid internships, and even college scholarships. Through these programs, Youth on Course aims to nurture healthy behaviors, college/career readiness, and academic success.
There are a number of golf courses throughout Sonoma County that participate in Youth on Course. Currently, those courses are:
For more information on Youth on Course, check out their website at http://youthoncourse.org/
---
The TGA Sports Foundation provides a variety of golf (and tennis) programs for kids in Sonoma County. TGA programs include after-school enrichment, camps, tournaments, lessons, and even golf-themed parties. The TGA teaches age- and skill-appropriate golf lessons, golf rules and etiquette, character development through their "Play the Fair Way with TGA" initiative, general physical education and fitness, and even academic lessons including math, science, history, and English.
For more information on the TGA, visit the North Bay branch's website: http://playtga.com/northbay/
---
PGA Apprentice Neal Hellman heads the junior golf clinics at Adobe Creek Golf Club in Petaluma. Adobe Creek's lessons focus on all areas of the game, including chipping, pitching, putting, and full swing. Both a beginning and an advanced class are offered for ages 5-12. Kids with little to no golf experience are welcome.
Neal's number: (707) 364-1523
---
Bennett Valley Golf Course offers lessons from their director of junior golf, Derek Felciano, a Bennett Valley native who started his golf career in 1990.
Derek has years of experience teaching golf. He's the head coach of the Santa Rosa Junior College women's golf team and has even taught at local Santa Rosa middle and elementary schools. Lessons are available seven days a week.
Pro Shop: (707) 528-3673
---
The Fairgrounds Golf Course is a great place to have your child learn the basics of golf. The course has a long history of helping kids get into the game of golf—it's also a certified beginner friendly golf course!
Head Pro Daniel Stewart hosts the Junior Golf League, where junior golfers learn different aspects of the game and play at the same time.
Daniel's number: (707) 292-3917
dstewart@fairgroundsgolfcourse.com
---
Fountaingrove Golf and Athletic Club seeks to spread the love of the game to younger generations through family-friendly junior golf programs.
With year-round instruction, seasonal camps, and regular clinics, there are a variety of options to get your children into the game. Kids also enjoy the social component of the junior programs here, including things like ice cream socials and dances.
Main office: (707) 521-3207
---
Foxtail Golf Club in Rohnert Park offers both lessons and clinics for young golfers. Clinics take place in the fall and cover putting chipping, full swing fundamentals, as well as drivers, fairway woods, and hybrids. Jessica Quayle and Val Verhunce both have extensive experience teaching junior golfers about the basics and are qualified to teach advanced skills as well.
Jessica's number: (707) 321-9791
Val's number: (415) 453-4940
---
Healdsburg Golf Club, open 365 days a year, is host to golf lessons year-round. LPGA member Amanda J. Beeler teaches beginners of all ages, using all of the tools and tech at her disposal to help her students improve quickly. There are few more beautiful places to learn how to golf than at Healdsburg Golf Club.
Amanda's number: (707) 239-0624
---
The Links at Bodega Harbour will be one of the farthest courses for most people in Sonoma County, but the views make it worthwhile. This year, the course is participating in the Northern California Golf Association's Youth on Course program. Youth on Course is an amazing program for at-risk youth, offering lessons in golf, clinics, tournaments, internships, scholarships, and more, all while building life skills and values.
Main office: (707) 875-3538
---
The Mayacama Golf Club in northern Santa Rosa is a private course regarded as one of the top 100 courses in the nation. Mayacama offers incredible views and secluded holes in the beautiful Sonoma County countryside.
Mayacama has five professional golf instructors who assist members and their guests of all skill levels in all areas of the game. Mayacama offers junior lessons for players 17 and under, in private and group settings.
Main office: (707) 569-2900
---
Northwood Golf Course in Monte Rio is one of the most beautiful golf courses in Sonoma County. Surrounded by huge redwoods on all side, it really is a special place for both adults and children.
Northwood participates in the NCGA Youth on Course program, providing excellent golf instruction and life skill development to young golfers.
Main office: (707) 865-1116
---
Santa Rosa's expansive 36-hole Oakmont Golf Club is home to three Class A golf instructors. Oakmont's instructors have years and years of experience teaching and coaching golf for players of all ages in Sonoma County.
Jessica Reese Quayle (who also happens to be an instructor over at Foxtail Golf Club) is one of the instructors at Oakmont. You can view her website here.
Main office: (707) 539-0415
Jessica's number: (707) 321-9791
---
Christopher Gay is the Head Golf Professional at the Petaluma Golf and Country Club.
Christopher has over 15 years of teaching experience, including experience as a Special Olympics Coach and the Junior PGA Golf Tour Chairman. He's taught juniors and accomplished players alike during thousands of lessons over the course of his career.
Christoper's number: (707) 762-1057
---
Petaluma's Rooster Run Golf Club offers thorough and effective junior summer golf camps. Dave Johnson has produced golf camps for kids for the past 25 years, focusing on basics, form, safety, rules, etiquette, social interaction, and problem-solving.
Dave's camps also include competitions and prizes to keep things fun. Dave also creates the Champion's Golf School for more experienced junior golfers who really want to focus on developing their skills in golf.
Dave's number: (707) 484-0467
---
The Santa Rosa Golf & Country Club puts on their Kids Camp every summer to teach kids golf, tennis, and swimming skills. Kids get to learn from seasoned professionals in a fun and friendly environment with small class sizes. Kids will learn valuable tips from their instructors, receiving personalized help to improve their performance based on their skill levels.
Contact Allan Kelly for more info: Allank@santarosagolf.com
Allan's number: (707) 546-3485
---
Greg Anderson is the Director of Instruction at the Sea Ranch Golf Links. For much of his career, Greg has developed golf programs to better teach his students all the things they need to learn.
Greg learned the best ways to teach from legendary golf teachers during his time at the Golf Digest Instructional School. This has helped him develop a comfortable, enjoyable approach to golf instruction.
Greg's number: (707) 696-1621
---
Sonoma Golf Club is a private club that offers youth camps for its members' children.
The camps focus on fun, first and foremost, while following the structure of the PGA junior programs. Three instructors teach kids different aspects of golf throughout the day, including full swing, mid and short irons, and chipping and putting.
Main office: (707) 939-4100
---
Windsor Golf Club gives kids the opportunity to learn and improve with both class and camp formats.
Junior golf classes run year round and are available to both beginners and experienced junior golfers. The classes cover all aspects of the game with limited class size to keep instruction on the one-on-one level. Windsor Golf Club's junior golf camps are three-day sessions offered in the summer months that also cover all aspects of the game.
Pro Shop: (707) 838-7888