Defending champion Justin Rose is back to defend his U.S. Open title he won last year at Merion Golf Club's East Course in Ardmore, Pennsylvania.
Rose, who is from England, edged Jason Day and Phil Mickelson by two strokes to win his first Major golf title.
This year's tournament, which begins today at Pinehurst, North Carolina, will unfortunately be without fan-favorite Tiger Woods who will miss his second consecutive Major, and his sixth Major due to injury, as he recovers from recent back surgery in March.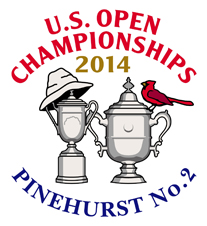 Did you attend the U.S. Open that visited the Bay Area in 2012? We'd love to hear from you if you did. Webb Simpson won the Championship at San Francisco's Olympic Club Lake Course.
Two of my favorite European players I would love to see win their first Major are Lee Westwood and Sergio Garcia. Both have the game to do it, but Garcia always seems to have problems staying focused with whatever's going on in his head. Good luck to both.
On the American side, I'll be rooting for Mickelson, and rookie sensation Jordan Spieth. Throw in Day, Keegan Bradley and frumpy looking Jason Dufner as my next group of potential challengers.
Northern Ireland's Rory McLlroy, who won the Open in 2011, is another player you must respect.
Well there's what I have to say about this year's Open field, but here's someone who knows a hell of a lot more about just about anything in sports, especially golf. I asked an old friend who I had the pleasure of working with back in the day at the Santa Rosa Press Democrat. He went from there to covering golf and the 49ers for the San Francisco Chronicle. He's one of the brightest, young voices, and top sports radio talk-show personalities in the Bay Area, KNBR's Brian Murphy.
So I emailed Brain, and asked him who he thought has the best chance, or game, to win this year's tournament?
"Who has the best chance?" Murphy replied. "You always want to show off and pick an obscure guy like Webb Simpson or Lucas Glover, but I am too consumed by Phil Mickelson's story to pick against him. Six runners-up, including one at his very own golf course, means he will rise to the occasion again and be in the mix on Sunday . . . again. The energy will be enormous, and history is in the air. Lefty has the short game at those tricky greens to do it. It should be an awesome ride."
I also asked Brian what made the U.S. Open different than the other Majors he covered.
"The U.S. Open is always a tense, agonizing weekend," he said. "You never hear the ebullient roars of Augusta National's birdies and eagles. Instead, you more often hear the groan and pain of the gallery shouting 'OHHHH' when a par putt trickles past. It's inevitable. Most players will lose it on Sunday more than one player will go win it."
Thanks Brian, I appreciate your input.
So select your winner from our poll or give me a comment on which player, and why your player will win.