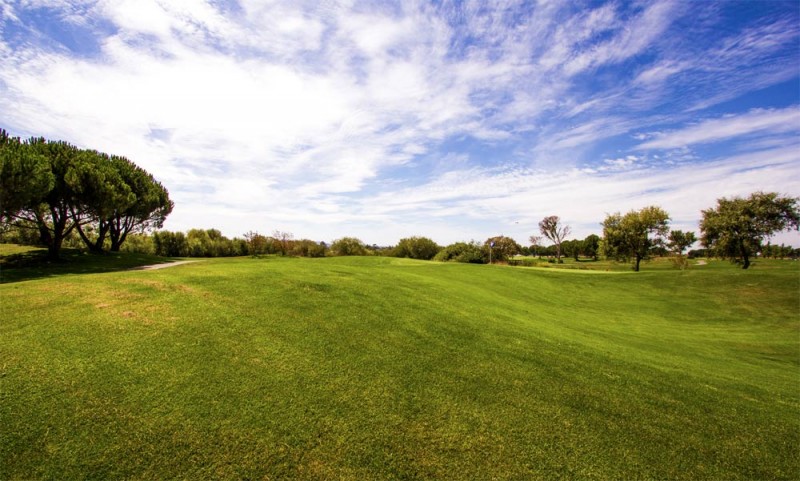 SonomaCountyGolf.com's first ever Chip In For Charity golf tournament went off without a hitch.
We had amazing support from a ton of sponsors—64 businesses in all! From national companies like Starbucks to awesome local businesses like Engage Organics, the generosity of these businesses to support the Polly Klaas Foundation was simply astounding. We would like to thank each and every one of our sponsors for contributing to a great cause and helping make this event everything that it was.
With 17 teams competing, the competition was fierce. As registration began, the Sonoma County fog was still thick overhead, keeping the Rooster Run course nice and cool. Rumors and speculation ran rampant as to which players were the ones to watch out for, but nobody knew exactly how the whole thing would turn out.
The day kicked off with a $5 buy-in putting contest, where the golfers got a chance to size up each other's short game. Many entered, but only one could come out on top. Friendly banter ensued as some great and some not-so-great shots were made. In the end, David Browning from Lakeport won the contest, taking home a brand new putter and more for his efforts.

Just after 10:00 the charity tournament began. The teams raced to their respective carts and sped off, not wasting a moment of time.
Early on, we met up with Team Woosley at the Engage Organics base camp situated in the far back of the back nine. Engage Organics had everything to get the party started: delicious grilled tacos, a keg of Lagunitas Little Sumpin' Sumpin', and a gas-powered blender for margaritas. Team Woosley didn't have much to say besides a confident, "We're doing good," and then quiet on the tee.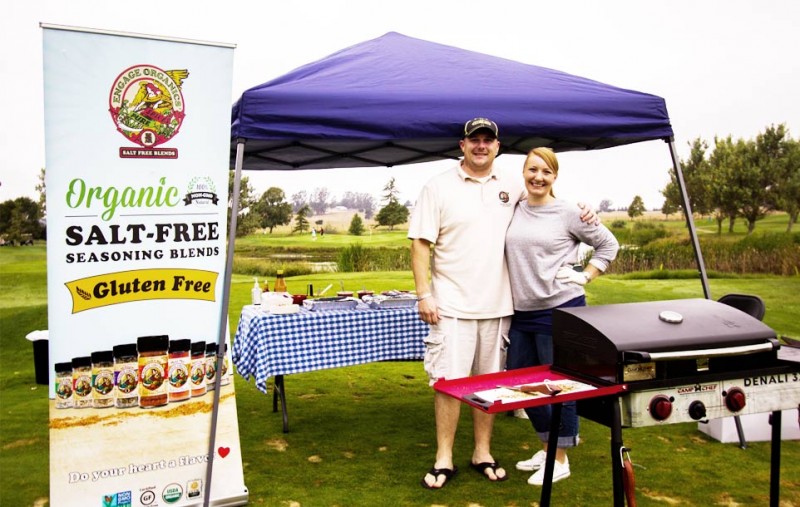 Right around 12:30 the fog burned off and the sun came out. With some clouds in the sky and an intermittent breeze, the rest of the day wasn't too hot to handle—beautiful for golfing. At Hole 12, Chris Frost (of the tournament's primary sponsor, West County Net) and team found refreshments in the form of beer and BBQ pulled pork from Lombardi's. When asked if they were under, teammate Ron Andrews replied simply, "Not enough."
Both team Old Castle and team Wells Fargo were around even half way through the day. Team Wells Fargo reported that they were "doing the best they can to break even" but they were mainly glad the humidity had dropped since the morning.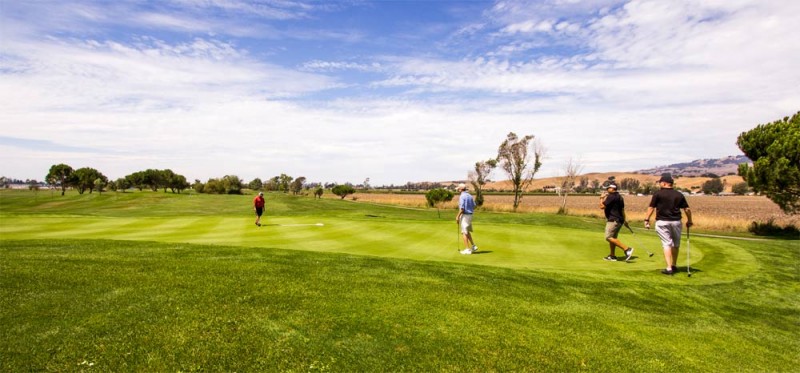 The tournament came to an end at about 2:30, and everyone packed up and headed into the Rooster Run event center for the tournament's reception. Rooster Run's chefs prepared some excellent food and golfers, sponsors, and volunteers alike enjoyed a great end to the day.
Event coordinator Paloma Patiño led the charity raffle, featuring prizes from local wines to winery tours to scenic air tours. Afterward, the tournament winners were announced. As the scores were tallied it was clear that Team Woosley—consisting of Mike Stoker and Jason, Gary, and Matthew Woosley—had managed to pull ahead of the competition with a combined score of 53. Right on their heels, second and third place teams McLea's Tires and Taylor tied with scores of 56. Team Woosley were presented 1st place trophies for the inaugural event, along with a couple bottles of wine to get the celebration started.

A huge "Thank you!" goes out to everyone involved in this event. Without the help of all of our sponsors, our volunteers, and Rooster Run itself, we could have never pulled off such a fantastic and successful event. Check out our thank you page for a full list of our sponsors.
We're proud to be able to support a wonderful foundation like Polly Klaas. But just because the tournament is over doesn't mean it's time to stop the support! If you would like to support Polly Klaas, visit their website or find them on Facebook—they've helped thousands upon thousands of families find their missing children.
Though it was a lot of work, everything was worth it in the end. We're already looking forward to doing all of this again next year. We'll see you at the next Chip In For Charity tournament!