About The Links at Bodega Harbor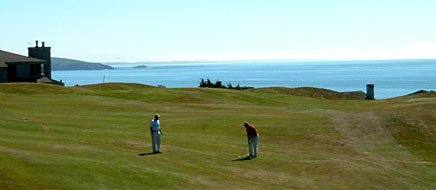 With views of the endless Pacific Ocean from every single hole, it's difficult to beat the experience of the Links at Bodega Harbour. Designed by Robert Trent Jones Jr., this course has rated among the top ten courses in Northern California. It's also nationally recognized for its environmentally friendly course maintenance. If you're looking for a unique, powerful, and ultimately challenging experience, the Links at Bodega Harbour will leave you more than satisfied.
Features
The Links at Bodega Harbor offers professional golf lessons and instruction for individuals or groups of 3 or more. There's a snack bar and golf shop where you can order hot menu items ahead of time, so they're ready for you after you finish playing.
Or, after a day on the links, relax and experience some fine dining at the Bluewater Bistro & Bar, which serves breakfast, lunch, and dinner. With an ocean view dining room, Bluewater Bistro offers some of the most gorgeous views of the Northern California coast.
Sonoma County Golf Resource
Average rating:
34 reviews
Sep 27, 2014
OK. This is a great course, great views, Proshop management is friendly and competent. Blue Bistro makes a good vodka martini! The problem is the price! My foresome play every year in Sept/Oct and in past years golfnow.com got us a good rate of $59 with cart, around Noon, and a hot dog! This year none offered from any of the online vendors and Links wants $90 before 2pm. It cost us $8 in gas just to drive out there. I tried call local Proshop to see if they would offer 4 loyal golfers a better rate(they get $240 and we get to play so it's a win/win), but now you only get some call center in Texas! Attn: If you want a lot more golfers to drive an hour to your course, offer $50 to $60 and they will come!

We just booked Mare Island, which has views comparable to Bodega, Mare's greens are outstanding. Our price is $25 with online vendor! Cant wait to play Mare Oct 4th. Played there twice in Sept and course is in fantastic shape. Views on back 9 showcase panoramic shots of the SF Bay. Old WW 2 bunkers everywhere take you back in time. Hope Bodega changes in future and "I'll be back". Weekend golfer!
Aug 8, 2014
Great setting for a golf course overlooking the Pacific, the front side is very interesting while the backside becomes a little bland if you will. Still, a wonderful getaway from San Fran, and a great town to visit, where they filmed the Birds:
Jul 18, 2014
I went here with my husband so he could enjoy a morning round of golf during our Napa Valley vacation a couple of months ago. We felt the price was reasonable for the course conditions and the wonderful views of the Pacific. I had to pay a $15 spectator fee, which I found to be slightly ridiculous, but whatever. He enjoyed the course, there were a few holes which were pretty challenging. We ordered hot dogs from the concession area. The hot dog itself was good, but the bun was cumbersome and a different type of bun would have suited the hot dog better. All in all, we had an enjoyable morning and would definitely return if we were ever in the area again. It was a nice break from wine tasting!
Jun 19, 2014
4* Links at Bodega Bay

1+ hour plus from San Francisco; located on coast

Weather can be fickle; but always windy; bring a windbreaker

Nice restaurant

Friendly and helpful pro shop staff

Course is very hill; the first hole could use an elevator

This course is not for beginners

Numbers 16 and 17 are unique holes; need to carry 150 yards

Beautiful view of Bodega Bay

Environmental rough outside the fairways and houses
Apr 21, 2014
Great Views, interesting holes and well maintained course. Great Staff & Service! They returned by mail, at their expense, a jacket I had left at their excellent restaurant.
Dec 28, 2013
I am just finishing lessons through the "Get Golf Ready in 5 Days" package. Bob Caldwell the PGA Pro teaches the class and is excellent (plus he makes it a lot of fun). I have not played seriously in 10-12 years and now feel confident that I can at least keep up with my family (3/4's of them now play golf). This is a great opportunity to get semi-personal lessons in small groups (we had 6 people total) for a great price. You get 5, approximately 1 hour classes for $99. The course is challenging but the most beautiful course I have ever played on. The staff (Bob, Shawn, Nick, Diane, Will, Amanda and others) are friendly, knowledgable, and enthusiastic. They work at a great place and it shows. The restaurant, Blue Water Bistro has great meals for lunch and dinner and a wonderful view of Bodega Bay. There is also a conveniently located snack bar to grap a quick bite and a drink between the front and back 9's. The course is well manicured and the carts are well maintained. If you have never played golf on the Coast of Northern California, you have to play golf here!! The weather can be an issue, so check ahead of time. Early morning tee times in the Summer are wonderful (beat the afternoon wind). I highly recommend checking out the Links at Bodega Harbour for your next golfing adventure. Fore!!!!!!!! All the best from the Gopher King
Dec 28, 2013
great views of the ocean! the only holes you can't see the ocean from are 16 and 17, which are down by the beach and the view is blocked by a beach head or whatever the proper name is. you can hear the waves and sea lions from there. the rate is cheaper (about $55 instead of $80) about 2 pm. might be more wind in the afternoon, but for me it's worth the experience and money savings. this is the only true ocean side course i've played and i want the real thing.
Dec 28, 2013
Beautiful views on a very challenging golf course. Tight fairways and lots of white stakes, but plenty of fun and great customer service.
Dec 28, 2013
Great home rentals and stunning golf course.
Oct 20, 2013
Crazy windy and terrible greens. Friendly staff, challenging course, beautiful scenery.