About Healdsburg Golf Course at Tayman Park
Located in the heart of Sonoma Wine Country just a mile from the Healdsburg Plaza, this unique course offers fantastic views of Fitch Mountain and the Alexander Valley. One of the oldest courses in the area, Healdsburg Golf Club has experienced a renaissance of sorts in the last few years as golfers new and old seek some of the most beautiful views Northern California has to offer. It has even been said that famous designer Alister MacKenzie contributed to the design of the course. This nine hole course offers an incredible experience that many golfers opt to play through twice for a full 18.
Features
If you're looking to get some driving practice in, Healdsburg Golf Club is the perfect place to do so. With a year-round, multi-tiered, all-weather driving range, you can't go wrong. Healdsburg Golf Club offers a covered driving range perfect to stay out of the hot sun or even the pouring rain. Modeled after the world-famous multi-tiered driving ranges of Japan, Healdsburg Golf Club's driving range is truly a one-of-a-kind experience and quite unique for the area.
Healdsburg Golf Club also offers a bar and outside patio area with absolutely beautiful views of Dry Creek Valley. Come join us 7 days a week to enjoy a stunning view and an even better glass of wine from the world-class wineries of Sonoma County.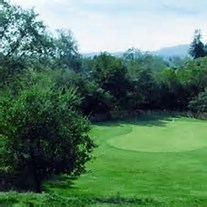 Sonoma County Golf Resource
Average rating:
12 reviews
Jun 4, 2014
This was the first time I've ever played golf...and, to this places credit, they realized that I had little to no clue about what I was doing and acted accordingly.



While the game of golf varies between pleasantly satisfying and soul-crushingly annoying...giving anything less than four stars would be horribly disingenuous.
Mar 16, 2014
Great public course with extremely good customer service. It was a super fun 9-holes!
Dec 29, 2013
Must be nice in this economy to turn away paying customers. We did not have a tee time but when we got there only 6 cars in the parking lot, no one on the ninth hole or teeing off on the first hole as well as no one getting ready in the parking lot for a sceduled tee time and we were told its a 30 minute wait for a twosome go figure. We guess they just did not really need the business.
Nov 5, 2013
Great 9 hole course! Challenging, well kept and affordable. Bring some extra balls, you may loose a few. I highly recommend this course! The club has unbelievable bloody Mary's, and happy hour!
Oct 9, 2013
NIce course for 9 hole course. They say you can play it twice for 18 and they change the tee boxes around. A little pricey for 9 but the course and green are kept in great shape. Wish they would provide pictures of the holes. Overheard range usually doesn't open until 12. This was my first time playing and there were a few blind shots. Hole 4, I did not know where to hit it. From the tee box I thought it was a dogleg left. Come to find out it was a pretty straight tee shot and a slight dogleg right to the hole.

Didn't eat but the food deals looked good and the prices were very affordable. Next time I'll have to try it. Not many people on the course at the time which was nice because I could take my time and enjoy the round and course.

FYI-Lots of elevations. Liked it but made it a little more difficult.

Will be back!
Jul 30, 2013
I play on a Tuesday night co-ed league here in the summer. It's a ton of fun. Some people refer to it as the goat-ranch, and ya, at times it's a little less than desirable in some areas of the course, but it really is a beautiful and fun course to play - and the staff is always working to make it even more so.



The little events center is really cute too and a good place to rent out for a small party.



Fees for golf are cheap! $21 with cart per person and occasionally you can find coupons as well.



Nice little short course to go play after work, and the driving range is decent too.
Jul 20, 2013
I DJ'ed a wedding here in July 2013. The view is spectacular and the food from Fig and Vine was delicious!



Aaron and his staff are great people to work with!
Jun 29, 2013
Cool golf course and range. I really liked the triple deck golf range! Cold cold beer, good service, and inexpensive. Very pretty views of Healdsburg as well.
Jun 10, 2013
This is a friendly golf course with terrific views of Healdsburg and the surrounding area. It's always in OK shape, but I wouldn't suggest having any prestigious completion here. It's definitely not ready for ESPN.



Look online or find a Groupon for good deals. Think twice about 18 holes and lunch. 9 holes is more than enough and whatever you do, don't be tempted to walk the course. The hills and potholes just beg to give you a twisted ankle.



Give Tayman (Healdsburg Golf Course) a try. It's an experience.
Apr 15, 2013
I'm definitely down with this place! I love the three-story driving range. Very cool! The views are great. The club house is small but clean. Bathrooms are better than most driving ranges and that's definitely good news to me. Easy to access from downtown Healdsburg and very close to Badger Park which is a nice place to access the river and walk around.